What do you think about this rom?




** Your warranty is now void.

** I am not responsible for lost IMEIs,
do some research if you have any concerns about
features included in this ROM before flashing it!
YOU are choosing to make these modifications, 
and if  you point the finger at me for messing up your device,
I will laugh at you.




https://www.mediafire.com/convkey/692a/rw9o8l00bxa4ax76g.jpg
Coming soon
Its already out there!
Hey batman lovers! Your wait is now over.
Here, I present my a New stock Kitkat Themed Rom for our Micromax Unite 2.
Boot Logo
Boot Animation
Boot Audio
Ringtones
Notification tones
Pattern Lock Rings
Wallpaper
Easter Egg
Themed System UI
Dark Themed
Pre-rooted (with Kinguser)
Deodexed
Zipaligned
init.d support
Dolby Digital
Sony Sketch Font
Permanent OTG support
Lollipop App icons
Lolipop Statusbar icons
Network mode icons removed
Apollo Music Player (with Dark knight album art)
Touch Recalibration
Xposed Installer
GravityBox Module
Blur UI Module
Greenify

https://www.mediafire.com/convkey/997a/78hxxdzydq8umj37g.jpg

1.Wallpaper Reset after Every Boot
2. Why so serious?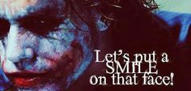 No other bugs!!

Version 1.0 - Click Here!

you must be on KITKAT stock rom. Installing over LOLIPOP with CTR V3 will work. But there is a risk of losing your imei.
Quote:
1. Enter Recovery
(CTR v3 recommended >>
Click here!
)
2. Wipe all
(Preflash)
3. Install Zip from sd
4. Choose "
Batdroid_v1.0_Ajith.zip
"
4. Reboot
Tips:
Quote:
After Installing,
1. Open Xposed Installer
2. Install framework
3. Enable all modules
4.Reboot
Hibernate apps which are not required to run in background using greenify for better battery backup. Use greenify widget in desktop.
What do you think about this rom?